Fourth of July is coming; start lighting the grills!
During the excitement of big celebrations like Independence Day, it's easy to become too overwhelmed to sort all of your waste at the end of the day. When dealing with a large party, separating food scraps and recyclables from garbage might seem like just another chore–one that you might decide to avoid, just this one time.
Good news! Just because a few of your friends and/or family aren't familiar with how to sort compostables, or you might be expecting to collect more than your freezer can hold, doesn't mean you have to put a pause on collecting food scraps for composting later! Here are five easy tips for how to make your party compost-friendly.
1) Provide compostable plates, cups, napkins, and utensils.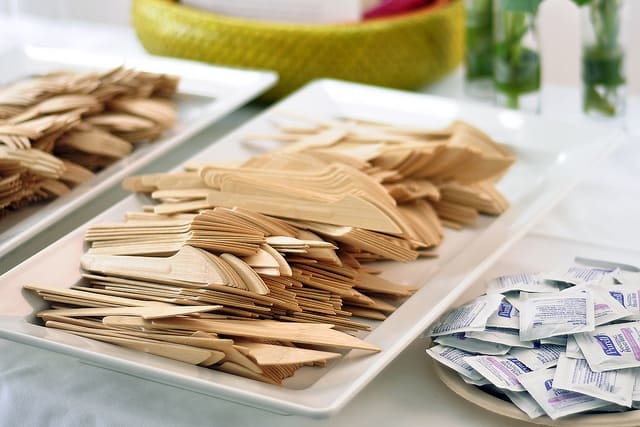 These days, there are many options for compostable serviceware. In fact, many regular paper napkins and plates could easily be composted. Remember just because a plate or cup is paper, doesn't mean it is compostable, however! Avoid paper serviceware that has waxy coating and heavy, potentially toxic dyes.
Bonus: If you want to reduce your waste altogether, try using regular plates, cups, and forks, and cloth napkins. Figure out a good system for marking them, so party guests don't confuse which cup is theirs. Options include different colored rubber bands, stickers, washable markers, and more!
2) Have a well-organized waste station!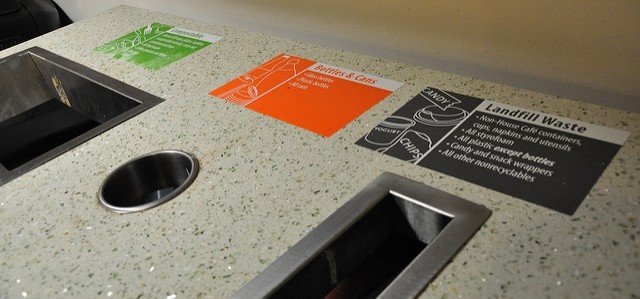 Divide the station into three options: food scraps, recyclables, and landfill. Be sure to have labels that clearly show which items go into which bin. Also keep in mind, if you are bringing your scraps to a local food scrap drop-off, meat, bones, fish, and dairy are not accepted and should be disposed of with landfill material. For those enrolled in Department of Sanitation's Organics Collection Program–the brown bins–meat, bones, fish, and dairy can go in with your other food scraps!
Bonus: Assign a waste station manager to direct guests how to sort their waste. This is a great job for the kids!
3) Prepare easy to sort foods.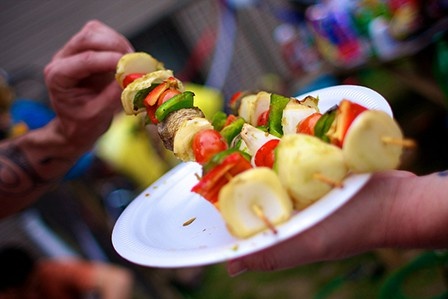 For those new to food scrap collection, it might be difficult to remember that their burger bun is safe to compost, but their beef patty and cheese might not be accepted. Take the guesswork out of sorting by offering stand alone foods: instead of burgers and hot dogs offer ribs, chicken, or steak and set aside a special container for bones to avoid getting them tossed in with your food scraps. Or, divide your food offerings into two tables: one for the compostable materials, and one for things that will go to landfill. This visual cue will help guests remember what goes where when it is time to sort. Finally, have large bottles of condiments on hand instead of sauce packets to avoid accidentally mixing hard-to-find plastics into your food scrap bin.
Bonus: If you're feeling adventurous, try offering a completely vegan selection of foods to your guests. Since none of the items would contain meat, bones, fish, or dairy, you won't have to worry about accidental contamination. And, there are literally thousands of recipes out there for inspiration. Check out a few options here, here, and here.
4) Plan ahead for storage.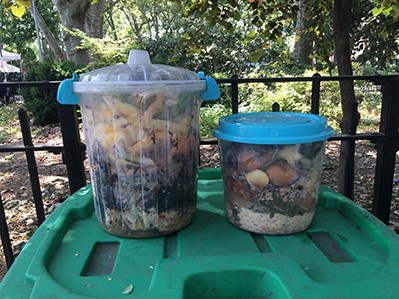 This year, Fourth of July falls on a Wednesday, which means many people will have to wait a few days before they can drop off their food scraps. Just because you don't have enough freezer space to hold all the extra scraps, doesn't mean you have to fear pests and odors! As you collect scraps, try adding in shredded newspaper, sawdust, or other dry, carbon-rich materialsto control odors and soak up any excess moisture.
Bonus: Instead of storing in plastic bags, try using 5-gallon buckets, or old tupperware. Plastic bags aren't compostable and must be sent to landfill after they have been soiled by food residue. Containers, on the other hand, can be cleaned out and either reused or recycled.
5) Have your elevator speech ready!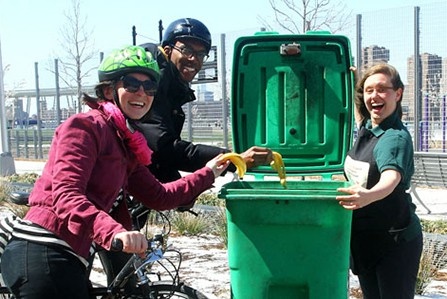 You might find some of your guests are confused by the act of separating food scraps from waste otherwise destined for the landfill. Perhaps they are disgusted by the idea, or they don't understand the point. Fortunately you can share all the ways in which composting food scraps benefits both the environment and New York City! At the very least, sharing your passion for the process should help encourage them to participate while at your party.
Bonus: Be prepared to share resources with your guests on how they can get started, from tips on how to store their scrapsto how to locate food scrap drop-offs near them!
If you follow one or all of these tips, it should simplify efforts to throw a compost-friendly party, one in which all of your guests–even those new to composting–can easily assist with sorting. Do you have other ideas on how to make your party more compost-friendly? Share them with us on Instagram, @BigReuse #NYC #CompostProject.