Deconstruction is the selective and careful dismantling of buildings to maximize re-use and recycling rates. Big Reuse's Deconstruction Team can professionally dismantle anything from a kitchen to a whole house, uninstalling the items carefully and removing the items as a tax deductible donation.  Decon is also your best environmental, and often financial, alternative to the landfill!
For inquiries, contact our Deconstruction Team at [email protected] or call 718-725-8925 x 4.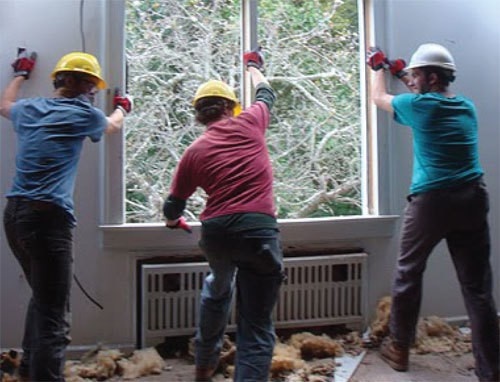 What Materials Are Candidates For Deconstruction?
Architectural Details: • Kitchen and Bathroom Cabinets • Doors • Windows • Counter Tops • Bookcases • Molding • Mantels • Flooring
Lighting & Fixtures: • Light Fixtures • Chandeliers • Sconces • Table/Floor Lamps
Plumbing Fixtures: • Sinks • Bathroom Counters & Vanities • Faucets • Toilets • Bidets • Wetbars
Working Appliances: • Refrigerators • Freezers • Ovens • Stovetops • Washers & Dryers • Microwaves • Air Conditioners
Will Deconstruction Cost Me Anything?
We do not charge for the vast majority of our projects which tend to be kitchen and bathroom renovations. On larger projects where Big Reuse is acting in a capacity similar to a demo contractor we must charge in order to cover our costs. Taking things apart carefully for reuse is often time consuming and sometimes costly. Most people, however, experience net cost savings when compared to normal demolition, on account of the tax deduction.
How Does It Work?
We offer a variety of deconstruction services. All of which are performed by our fully insured Deconstruction Team.
Kitchen Deconstruction: Remodeling your kitchen? Big Reuse's decon team will remove your old kitchen and pave the way for a new set. This service is provided for free or at low-cost, depending on the value of the cabinets.
Total Building Deconstruction: Big Reuse will take apart and salvage your entire building. The maximum amount of material is saved and the maximum tax deduction value is received. Sometimes close to 90% of a home can be re-used!
Selective or "Skim" Deconstruction: If you are planning a partial or gut renovation, Big Reuse's decon team can save the old materials that don't fit into the new plan—doors, toilets, wood flooring and windows are just a few examples of the fabulous stuff that we "harvest" every day.
Why Deconstruct?
Treat Your Mother Right: Our landfills are overburdened. Every day NYC's Construction and Demolition (C&D) industry throws away over 19,000 tons of building materials. Throwing away reusable material is needless waste. Be part of the culture change that says "NO!" to "out of sight out of mind." Deconstruction is local and sustainable. Our projects, our customers, and our products are Tri-State area all the way. This tight loop means less oil consumption and fewer trees get cut down.
Support your community: Deconstruction requires more labor than conventional demolition. That means more jobs, green jobs, jobs with a future.