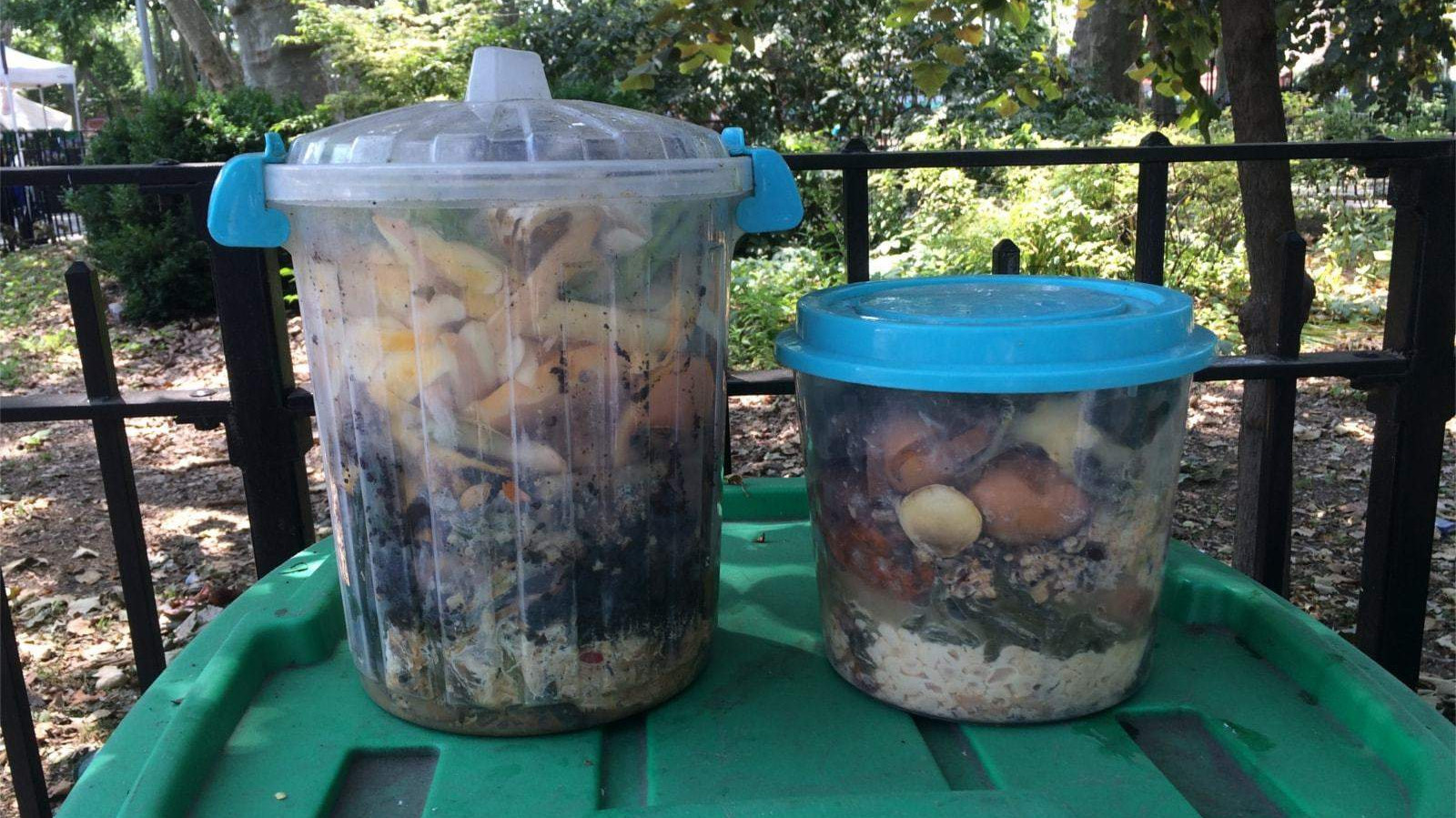 One of our most frequently asked questions from new program participants is, "How do I save my food scraps at home?" Another common question from seasoned participants is, "How can I reduce my plastic bag use?" We've compiled a list of tips below. Whatever method you decide on, we thank you so much for participating! You are an essential part of the process to help rebuild our soils!
What's your preferred method of food scrap saving? Share it with us on Twitter @bigreuse and @NYCzerowaste.
Reusable Container
Pros: Readily available, versatile sizes to fit fridge or freezer, can be used many times, rigid plastic and metal containers can be recycled if they break.
Cons: Inconvenient to carry empty containers after dropping off, fridge or freezer space may not accommodate.
Suggestions: 2 gallon paint bucket with lid, yogurt containers, plastic take-out containers, plastic shoe boxes.
Tips: If unable to freeze container, try to refrigerate. Adding shredded newspaper to bin will absorb excess moisture. Adding air holes will keep odors down at home and at the drop-off; airtight bins foster smelly, anaerobic decomposition.
Paper Bag
Pros: Entire bag is compostable, drop the whole thing in and keep your hands clean and dry, used at many take-out restaurants as extra packaging.
Cons: Not always available, not ideal if your food scraps aren't frozen, can break while transporting if the contents thaw out.
Suggestions: Request paper bags at the grocery store checkout line.
Tips: Any size of paper bag works. White and brown paper bags are best. We do not accepted full color bags because of harmful dyes. Try freezing contents or letting wet food scraps dry out to preserve the bag's integrity.
Compostable Plastic Bags
The NYC Compost Project hosted by Big Reuse will accept plastic bags that are BPI Certified Compostable. (If you drop-off elsewhere, check first before bringing compostable bags.)
Plastic Bag
Pros: Disposable, readily available, can be recycled at select retailers (if taken home and rinsed), will form to fit in any freezer.
Cons: Not recyclable when dirty, so we are forced to throw them away. Contributes to plastic in landfills.
Suggestions: 1 and 2 gallon Ziplock bags and durable grocery bags can be reused many times.
Tips: Soiled plastic bags are not recyclable and are discarded as trash. If unable to freeze, please refrigerate to keep odors to a minimum at drop-off site. Airtight sealed bags foster anaerobic decomposition. Consider adding shredded newspaper or wood shavings to absorb excess moisture.