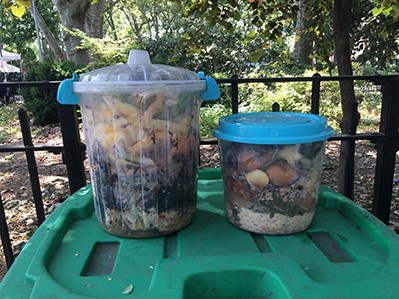 YES
Fruit and vegetable scraps
Coffee grounds, filters, and paper tea bags
Bread and grains
Egg and nut shells
Food-soiled paper towels and napkins
Shredded newspaper
Sawdust and wood shavings from untreated wood
Stale beans, flour, and spices
Cut or dried flowers
Houseplants and potting soil
Feathers
BPI-Certified compostable plastics
NO
Meat or fish scraps
Cheese or dairy products
Fats, grease, oil, or oily foods
Cat or dog feces
Kitty litter
Colored or glossy paper
Sawdust made from pressure-treated plywood or lumber
Coal or charcoal ashes
Non-compostable materials like plastic, metals, or glass
Diseased or insect-infested houseplants and soil
Biodegradable plastics
Yard Waste
We also accept yard waste at staffed drop-off sites! Here are suggestions to ensure that your yard waste is composted.
Do not bring yard waste to our Big Reuse Brooklyn, Junkluggers, Socrates Sculpture Park, or Broadway Library locations.
Please limit your-drop off to no more than two (2) large yard bags per drop-off period.
We cannot accept or process root balls or branches greater than 1/2-inch diameter.
Yard waste must be bundled or packaged. We prefer that you bring yard waste in paper refuse bags as they are fully compostable.
Do not leave yard waste at the drop-off site unless a staff member is available to accept your drop-off.
For more information, visit the accepted drop-off items page at nyc.gov/zerowaste.