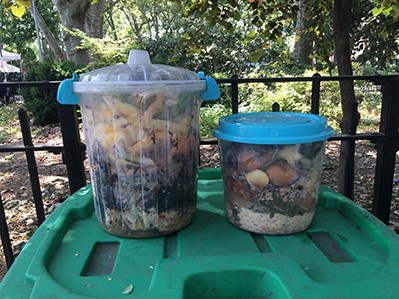 YES
Fruit and vegetable scraps
Coffee grounds, filters, and paper tea bags
Bread and grains
Egg and nut shells
Food-soiled paper towels and napkins
Shredded newspaper
Sawdust and wood shavings from untreated wood
Stale beans, flour, and spices
Cut or dried flowers
Houseplants and potting soil
Feathers
BPI-Certified compostable plastics
NO
Meat or fish scraps
Cheese or dairy products
Fats, grease, oil, or oily foods
Cat or dog feces
Kitty litter
Colored or glossy paper
Sawdust made from pressure-treated plywood or lumber
Coal or charcoal ashes
Non-compostable materials like plastic, metals, or glass
Diseased or insect-infested houseplants and soil
Biodegradable plastics
Big Reuse Collected Partner Sites
Food scrap drop-off sites are popping up all over the city!  See DSNY Food Scrap Drop Off Map for options in your neighborhood, if you don't see a Big Reuse option below. Funding approved by City Council supports the drop-offs along with efforts of dedicated volunteers and organizations.

Big Reuse has partnered with many inspiring community groups that sprang up when the City cancelled curbside composting collection. We are adding more as soon as we can confirm with DSNY and other partners. Big Reuse hauls the collected food scraps back to our two community composting sites in Gowanus and Long Island City where we process them with Parks leaves and wood chips. We then give the compost away to community gardens and Parks.
Location: McGolrick Park (Farmers Market) Russell Street &, Nassau Ave, Brooklyn, NY 11222
Time: Sundays 10:00am-1:00pm 
Location: Parkside Ave and Ocean Ave (NW Corner)
Time: Sundays 9:00am-11:00am
Location: 1309 Dekalb Ave, Brooklyn, NY 11221 (Know Waste Lands Community Garden)
TIme: Sundays 12:00pm -3:00pm 
Location: 219 McKibben Street, Brooklyn, NY 11206
Time: Mon-Fri 7:00am-5:00pm, Sat 7:00am-1:00pm
Locations: 2 2nd Ave, Brooklyn, NY 11215
Time: Daily 24/7
Location: 32-01 Vernon Blvd, Queens, NY 11106
Time: Daily 9am-Dusk 
Roosevelt Island Farmers Market
Location:543 Main St, New York, NY 10044
Time: Saturdays 10:00am-2:00pm
Q Gardens
Location: 8 E 18th St, Brooklyn, NY 11226
Time: Saturdays, 10:00am-2:00pm
Location 33-50 82nd Street, Queens 
Time Thursdays 5:30pm-8:30pm
Location: 1194 Prospect Ave, Brooklyn, NY 11218
Time: Saturdays, 11:00am-12:00pm
Astoria Pug: Broadway N/W
Location: 32-11 31st St, Astoria, NY 11106
Time: Saturdays 9:00am-3:00pm
Astoria Pug: Steinway
Location: 38-12 30th Ave Long Island City, NY 11103
Time: Saturdays,9:00am - 3:00pm
Astoria Pug: Ditmars
Location: 22-70 33rd St Queens, NY 11105
Time: Saturdays, 9:00am-3:00pm
Astoria Pug: Newtown
Location: 30-36 41st St Astoria, NY 11103
TIme: Fridays, 10:00 am-4:30pm
To see more drop off sites around New York City go to DSNY Map of NYC Food Scrap Drop-Off Sites!